George
Centre Hastings ON Canada
Posts: 11529
Joined: 2009
July 3, 1814. Siege of Fort Erie, War of 1812
In what would become the final year of the war, the US attempted again to invade the British colonies.

This invasion began with a siege of Fort Erie which guards the entrance to the Niagara River as the waters of Lake Erie enter.

You can see from this map that Fort Erie is opposite the US city of Buffalo in NYS.




This is a print of what the US forces would have seen just before the invasion. View from the US side in 1814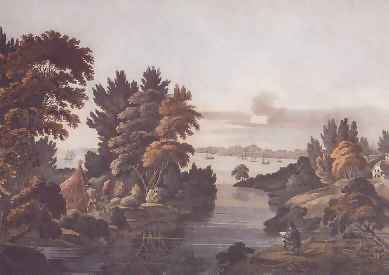 Fort Erie dates back to 1764, just after the French and Indian Wars which drove the French out of most of North America. The British decided to build a fort here and for 50 years it stood as a way station for ships travelling on the Great Lakes.
On two occasions the fort had been destroyed by ice storms and we who live near the lakes know that when the ice breaks up, it can be forced on shore by winds and it will do a lot of damage.

So the fort that the US troops attacked had been rebuilt in 1803 and so it was not fully completed by the time that the War of 1812 began. The US had attacked along the Niagara Peninsula in 1813 and if you check the map above, you will see Fort George which guards the exit of Niagara River waters into Lake Ontario. The US had taken Fort George and then sent troops to Fort Erie and burned the buildings. It took until Dec. of 1813 for the British and colonial militia to send the US back across the river, leaving the Niagara Peninsula in British hands.

And so on July 3, of 1814, the US decided to try to seize the important peninsula again. Success here would have permitted US troops to pursue the British around the west end of Lake Ontario and then to roll up the colony of Upper Canada including the key harbour at Kingston.

The US forces numbered about 4500 under the command of General Jacob Brown. Their first goal was to take Fort Erie which was garrisoned by 137 British troops commanded by Major Thomas Buck. Needless to say, the siege didn't last very long and General Drummond, in command of the British forces was upset that Major Buck did not try to hold on for a while so that he, Drummond, had more time to martial his forces.

Buck fired a few cannon shots and then surrendered the fort. He was court-martialed after the war.

And so the US was once again firmly planted in Upper Canada and the battles that followed at Chippewa and at Lundy's Lane were among the most bloody of the war with the US troops proving their worth as professional soldiers.

Chippewa was a great victory for the Americans on July 5 but the US met the British again at the bloody battle of Lundy's Lane on July 25. Both armies pounded one another, fighting at close range into the dark night and neither was in great shape in the morning. The US forces, now commanded by Brig. Ripley as Gen. Brown had been badly hurt by a Congreve Rocket at Lundy's Lane, retreated to Fort Erie.

The British followed up and laid siege to their own fort which was defended magnificently by the US troops. The British finally penetrated the walls of the fort but a magazine blew up, killing many of them.

This was a rather bumbling effort at siege warfare by the British but they had succeeded in bringing some boats up the Niagara River and taking them around the Niagara Falls. US troops killed a lot of British soldiers during the siege.

The British actually retired to Chippewa to plan and gather their forces for another attempt.

However, a brilliant effort by the RN, those ships that had come up the river, seized the US schooners that were supplying the US troops holding up in Fort Erie.

So the British retired but the US forces did not pursue. They were commanded at that point by Gen. George Izard. Izard elected to blow the place up and sent his forces across the Niagara River to the US side. That was Nov. 5 of 1814 and the peninsula was once again under British control.

Post war, the British used the remaining buildings at the fort as a barracks but they did not rebuild it.

Canada decided to rebuild Fort Erie in 1923 and it stands today as a popular tourist attraction. The restoration was completed for official opening on Dominion Day, July 1, 1939. (just in time for the 2nd WW

)

[Read More]

[Read More]

This is the Peace Bridge linking Canada and the US today.

[Read More]

If interested in the final siege of Fort Erie ending in Sept. of 1814, here is an account by military historian, Brig. Gen. Ernest Cruickshank. He makes full reference to the British and US units involved including militia. US posters may find this of interest because they did inflict heavy casualties on British forces, forcing them to withdraw and yet, they still decided to leave Upper Canada.

From memory now, it seems to me that US Gen. George Izard had to answer for his decision to abandon Fort Erie. I don't believe that he attended a court martial but there was some sort of inquiry. If anyone has information on that, I would like to hear about it.

[Read More]



Phil Andrade
London UK
Posts: 4933
Joined: 2004
July 3, 1814. Siege of Fort Erie, War of 1812
George,

Buck fired a few cannon shots and then surrendered the fort.

Truly a case of not getting much bang from your Buck !

Forgive my silly humour.

This warfare is too much an overlooked episode in the military annals.

The dramatic scenery excites imagination.

Lundy's Lane was a pretty murderous affair.

Am I right if I say that Winfield Scott fought there ?

Regards, Phil
----------------------------------
"Egad, sir, I do not know whether you will die on the gallows or of the pox!" "That will depend, my Lord, on whether I embrace your principles or your mistress." Earl of Sandwich and John Wilkes
George
Centre Hastings ON Canada
Posts: 11529
Joined: 2009
July 3, 1814. Siege of Fort Erie, War of 1812
Yes Phil, Scott was there and he was wounded as well. Lundy's Lane was a bloody affair. The two sides were exchanging musket fire in the dark and soldiers described seeing clearly the face and eyes of their enemies as the flash of gunpowder occurred.
Neither force was able to continue the next day.

The final siege of Fort Erie was brutal for the British. 900 killed and wounded on the date that Gen. Drummond decided to attack with three columns. Only one breached the fort and they were blown to hell when the magazine below them exploded. The US troops were nearly unscratched because they were protected by a stone wall.
The other two columns were cut down by US forces waiting for them at the attack points.

Cheers,

George