George
Centre Hastings ON Canada
Posts: 13338
Joined: 2009
USN Naval Base, Halifax, Nova Scotia
It was wartime in 1918 for Canada and the US and the German navy had declared, for a second time during this war, that it would engage in unrestricted submarine warfare. This was of great concern to Great Britain which had introduced a convoy system.

The general population of Halifax, Nova Scotia was concerned when it saw strange aircraft flying over the harbour. The local Canadian army military authorities at the harbour were flummoxed and fired off a note to the RCN asking whether it knew anything about these strange planes and the markings on them. They were told that the planes were US Navy aircraft. The army people explained that they should have known that lest the planes become a target. So what was the USN and their Curtiss HS-21 flying boats doing in Halifax?

The German declaration of unrestricted warfare had alarmed the Canadians and in February of 1917 an interdepartmental committee had recommended the creation of a RCN Naval Air Arm to be stationed at bases in Halifax and Sydney, Nova Scotia. In those days and when in doubt, the Canadians would contact the British military who sent an advisor over who recommended that 34 seaplanes and 300 trained men would be needed to ensure that departing convoys were safe. All well and good until the cost of the enterprise at $1.5 million dollars caused the Canadians to blanch. Canada said no.

Canada was already all in in trying to maintain its outstanding army Corps fighting in Belgium and France. The RCN had only been established in 1910 and was still trying to procure ships. There was no Canadian air force despite the fact that hundreds of fliers and ground crew were serving in the British flying services.

By January of 1918 the German navy had sunk many merchant ships and when the British warned Canada that a submarine attack in Canadian waters was highly likely there was a "what do we do now" moment. Canada had no sea planes and the British had none to spare.

So a meeting in Washington was called and representatives of the RCN, the USN and the RN developed a plan to use US planes and pilots to patrol out of Halifax and Sydney, NS.

The USN was told that there was some vacant land across from Halifax harbour in the eastern passage at a place called Baker's Point. The Americans would bring in 6 planes for each base, 4 kite balloons, 6 sub chasers and 2 torpedo boats and a submarine. The deal was that the USN would handle these operations until Canadian pilots were trained and ready to take over. The new RCN service would be 500 strong and recruitment began on Aug. 8, 1918.

Coincidentally, Aug. 8 was the date that the Battle of Amiens began in France and so the end of the war was nigh.

The USN had called Lt. Richard "Dickie" Byrd to Washington for a chat. He was thrilled. He was going to Europe finally and would pilot a seaplane over. Much to his chagrin, Byrd was told that he was heading to Nova Scotia in Canada to set up a USN Air Station. The station was only a dream. There was nothing at Baker's Point but bare land.

The USN certainly moved quickly. In that same month Lt. Byrd arrived in Halifax with boxcars loaded with building equipment and crated planes. These were floated across the harbour and assemble at Baker's Point. A temporary shelter was quickly erected for the planes and on Aug. 19 the US flag was hoisted over the new base with Lt. Byrd as Officer-in-Charge, US Naval Air Force in Canada.

The USN pilots began patrols quickly after and accumulated many hours in some of the poorest and changeable flying weather that can be encountered. That served them well. For all that patrolling, not one submarine was sighted but u-boats don't like airplanes and perhaps their presence kept the wolves at bay.

With the war won, the Canadians decided that they didn't need a naval air arm and cancelled that plan.

The USN quickly departed from Baker's Point when the war ended and left their buildings and a lot of equipment behind. But the base was not used again until the Canadian air force was established in 1920.

Richard Byrd made quite an impact on the people and he had written that he loved the people of Nova Scotia. The former USN base still has the temporary hangar that the USN erected in 1918. It is now an historic building. The centre of naval aviation in Canada is 12 Wing Shearwater part of which is stationed at the former US base. The RCN Fleet Diving Unit is based there and in 1995 the new base HQ was opened at Baker's Point in a new building.

The daughter of Lt. Richard Byrd was present to open the Richard E. Byrd Building.

Just a small part of a great conflict that saw Canada and the US move closer and closer together as friends and allies on this continent.

I should cite the Canadian Legion magazine as my primary source for this piece.

USN Naval Air Station, 1918, Baker's Point, Halifax, NS




USN Naval Aviators, 1918, Halifax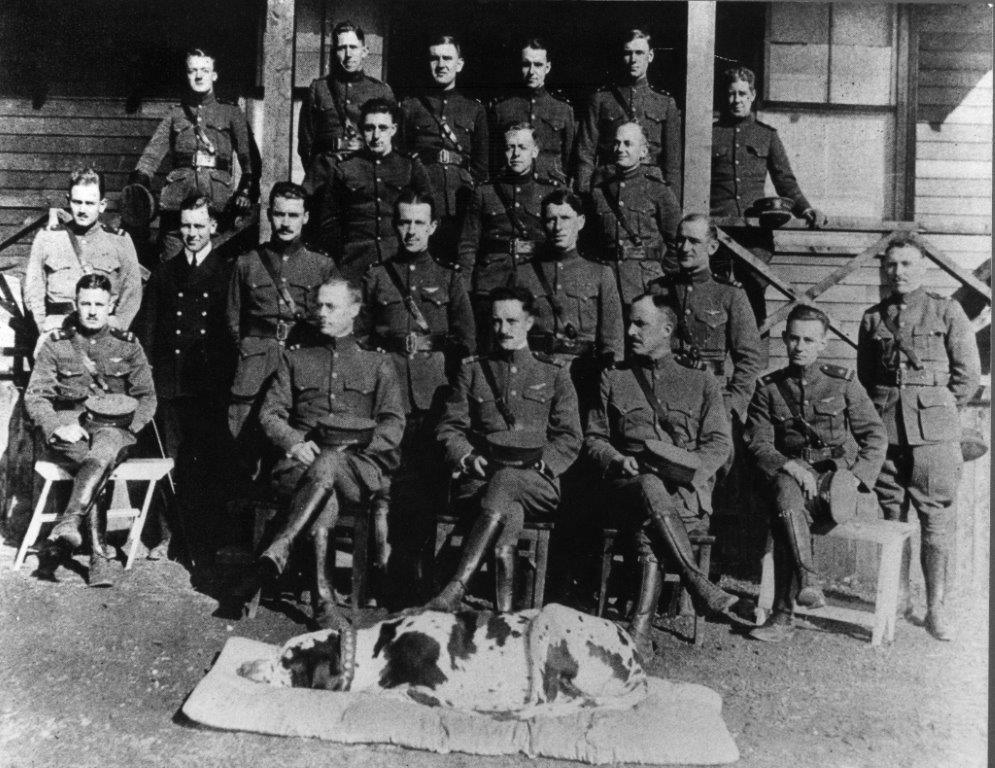 The first Curtiss Flying Boat to arrive at Baker's Point





Cheers,

George



Michigan Dave
Muskegon MI USA
Posts: 8054
Joined: 2006
USN Naval Base, Halifax, Nova Scotia
Hi George,

Nice article on the cooperation between the US & Canada to defend the Northern coast of the Atlantic from the German U boat menace in WWI ! It is encouraging that our 2 nations can work together! Halifax:'s Bakers Point Field was surely a detourent for the Germans! Also interesting that the RCAF are now using the base!? Great pics as well!

Thanks for posting!
MD

BTW that is one huge dog the US boys had for a mascot! ☺
----------------------------------
"The brave men, living and dead, who struggled here, have consecrated it, far above our poor power to add or detract."
George
Centre Hastings ON Canada
Posts: 13338
Joined: 2009
USN Naval Base, Halifax, Nova Scotia
Yes, I noticed that big dog. Anyone know the breed?

It is interesting to me that the US, even in 1918, still had a great quantity of military assets upon which to draw and quickly at that.

George


OpanaPointer
St. Louis MO USA
Posts: 1866
Joined: 2010
USN Naval Base, Halifax, Nova Scotia
Poss. a brindle Dane.

George
Centre Hastings ON Canada
Posts: 13338
Joined: 2009
USN Naval Base, Halifax, Nova Scotia
A footnote. I believe that Lt. Richard Byrd went on to greater fame as a polar explorer. He was the first to fly over the North Pole and he later he would explore Antarctica by plane and on the ground.

His time in Nova Scotia as a young man was a small part of an adventuresome life.

Cheers,

George